I have been busy scrapping lately and thought I would show off some
If you haven't seen the new Brownie Scraps, you need to check it out.
Especially if you love templates. i never knew they are soo much fun and easy to
work with. I hardly used them before. I guess I thought I was cheating.
This one is of my sons checking out the creek while we are camping,
I was telling them that when I was little camping I would love to catch the lizards.
Of course I had to tell they were harmless. My youngest would look for them and catch several, and the
crawdaddies too. He came to me and said look Mom this one tried to bite my big toe, lol.
Here the layout, I used template
Make a Wish by Scrapping Creations by Melanie
Kit is Makes Me Happy by Captivating Visions
Another one I did scrapping my youngest birthday. I had fun making this one.
I got really creative with the cup cakes. I got some transformers for the toppers and it came with
a great background that I fixed to the board. He loves transformers! It is hard to believe that he is 13!!
I used
Template Twofer Vol 1 by Moments Scrapped
Kit This Side of Crazy by Amanda Heimann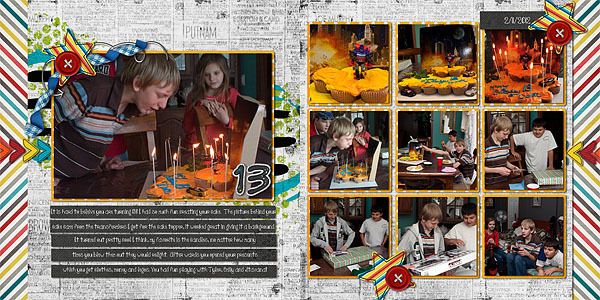 I am now also CT'ing for Neverland Scraps, Blue Heart Scraps and Down This Road Designs.
I am really excited to be working with them!
Be sure to head over to Neverland's blog She has a challenge for August and there is still time
to create a layout for it and win a $5 coupon to here store.
here is the link, just copy and paste it in your browser, for some reason I can't link it
http://neverlandscraps.blogspot.com/2012/08/august-blog-challenge.html
Guess I need to study up on blogger, though I have had no problems before :)